Distillery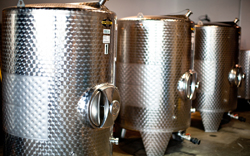 Molasses, the by-product generated during the manufacture of sugar is fermented and distilled and variants of alcohol are manufactured.
The current policies for setting up Ethanol plants are getting progressively conducive at the Centre and also in the State of Maharashtra. Recently, Ministry of Petroleum and Indian Sugar Mill Associations have signed a MOU for supply of Alcohol from sugar mills to Petroleum companies. The earlier restrictions for supply of Alcohol are recently removed and 5% addition is being made mandatory for the oil companies. The 40% alcohol produced in the country is used for potable purposes, while remaining 60% is used in industrial & ethanol purposes. The use of potable alcohol is increasing day by day.
Utilization of molasses for the production of ethanol in India will not only provide value-addition to the by-product, it can also ensure better price stability and price realization of molasses for the sugar mills. This will improve the viability of the sugar mills, which will in turn benefit cane growers.
Bhairavnath Sugar Works Limited has come with ambitious plans in this regard, not only as a growing area of business but also due to the 'green energy' that ethanol generates.
Bhairavnath Sugar Works Limited set up a 30 KLPD ethanol plant along with a separate Boiler & Turbine to provide steam and power for the proposed Ethanol plant, adjacent to the sugar plant located at Sonari, Taluka Paranda, District Osmanabad in Maharashtra.
The proposed project will produce Alcohol from molasses as raw material. The by-product of the sugar factory will be used as main raw material source. The steam and power requirement for the propose plant will be made available from the new separate boiler & turbine for Ethanol plant. The command area of the company has excellent irrigation facilities and potential for ensured raw material supply to the proposed Ethanol plant. The proposed Ethanol plant of 30 KLPD capacity will employ fermentation, multi pressure distillation system & Bio-gas, evaporation & compositing.
Strengths
The main strengths of this integrated project include:
Background and experience of the promoter and his team.
Project location in potential sugarcane area
Experienced, willing and committed farmers
Ensured cane availability
Demand supply gap in Alcohol in India
Conducive policy / regulatory frame work.
Sustained availability of raw materials
Substantial socio-economic and environmental benefits
Latest technology equipment with highest efficiency and
Sound techno commercial viability